Tours Of All Types Near Kanab Utah
If you live in Kanab, Utah and like taking guided tours of all types, then you will be happy to know that there is tons of places to explore and things to do with experienced guides. It doesn't matter if you like to fish, hike, climb, ride horses, or whatever, we got it here in or near the southwestern city of Kanab, Utah.
Dreamland Safari Tours
Dreamland Safari Tours is going to be a great choice for exploring the southwest and all the beauty it has to offer. They have over 30 different day tours, multi-day- tours, and custom designed tours to fit your needs. They are well known for their small group 4x4 Outdoor Adventure Holiday Tours that give you a one of a kind look at the National Parks and natural wonders here in the area. Dreamland Safari Tours is open year-round.
Dreamland Safari Tours really does have a tons of options for you to choose from. Visit their website for current information. http://www.dreamlandtours.net/
Phone Numbers: (435) 644-5506 or (702) 630-2267.
Email: dreamlandsafari@gmail.com
Windows Of The West Hummer Tours
Windows of the West Hummer Tours offer off road tours from experienced professionals and will take groups of all ages and experience to discover the great southwestern landscape. Their tours consist of laid back rides, not extreme off roading. Tours range from 2 hour trips to all day custom designed tours. Sometimes tours consist of getting out of the Hummer to do short hikes to see sights not accessible from the vehicle. Their Hummers sit up to 10 passengers, and their stadium seating will promise to give you views no matter where you sit in the vehicle. Make sure you bring your camera and free bottled water is currently provided. http://www.wowhummertours.com/
Call toll-free at 888-687-3006, or 435-689-2029 to make your reservations.
P.O. Box 168
Kanab, Utah 84741
Toll-free 888-687-3006
Tel. 435-689-2029
Prices are subject to change without notice.
Bars 10 Ranch
Bars 10 Ranch offers some unique tours of the north rim of the Grand Canyon. Bars 10 Ranch has been offering guided tours of the Grand Canyon for several decades. They are a great place to go to for rafting trips through the Colorado River in the Grand Canyon as well as offering ATV tours, off road tours, helicopter tours, horseback tours, and more. Bars 10 also offers custom tours for those of you who would like to have a truly unique adventure. http://www.bar10.com/
Email: Use the form below
Phone: 1-435-628-4010 Toll Free: 1-800-582-4139
Fax: 1-435-628-5124
US Mail: PO Box 910088, St. George, UT 84791-0088
Grand Canyon Expeditions Co
The Grand Canyon Expeditions Co specializes in rafting tours of the Grand Canyon. They have a few several day tour options to choose from. They have been in operation for over 26 years now and really know what they are doing. If you are looking for the ultimate river rafting expedition, look no further. Their website features lots of great photographs, videos, and more that will help you learn more about what you will experience on this incredible adventure. http://www.gcex.com/
Toll Free: 1-800-544-2691
Address: P.O. Box 0 Kanab, Utah 84741
Local Phone: 435-644-2691
Grand Canyon Tours
Grand Canyon Field Institute
2012 Schedule of Classes
(777 kb PDF File)
Topics: geology, ecology, history, archaeology, photography, & more. The Institute offers guided educational tours at Grand Canyon National Park led by expert instructors while hiking, backpacking, camping, & whitewater rafting.

Learning & Lodging
The Grand Canyon Field Institute (GCA) and Xanterra South Rim, LLC offer fun and informative Learning & Lodging Programs that combine lodging, meals, and two days in the field with an instructor.
---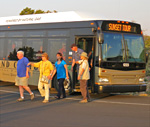 South Rim Bus Tours
Tours within the park to Hermits Rest and/or Desert View, as well as sunrise and sunset tours, are available daily. Experienced guides do the driving while you relax and enjoy spectacular views of the Grand Canyon. Choose a tour that suits your schedule and interests, and take in some of the fascinating history and geology of this special place. More...

Wheelchair accessible coaches are available by prior arrangement.
---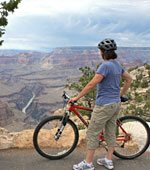 Bicycle Rentals and Guided Bicycle Tours on the South Rim

Bicycle rental services, as well as guided daily bicycle tours are provided by by Bright Angel Bicycles. They are located by the Visitor Center. They also provide a "grab and go" food and beverage service targeted toward hikers, bikers and pedestrians.

These services are available from approximately May 15 to October 15 of each year. Learn More...
---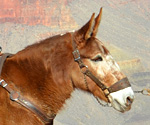 Mule Trips - North and South Rim

Taking a mule ride at the Grand Canyon is a century old tradition.

Mule trips into the canyon - as well as rides through the park's woodlands to scenic canyon overlooks - are offered on both the North and South Rims. More...
---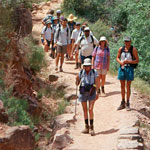 Guided Hikes - North and South Rim

Day hikes and walks led by Park Rangers take place throughout the year.
These programs are free and require no advanced sign-up.

Another option would be to join a guided hiking and/or camping trip that is educational in nature, offered by the nonprofit Grand Canyon Field Institute. They offer guided educational classes and tours at Grand Canyon National Park led by expert instructors. Topics include geology, ecology, history, archeology, photography,
A wide range of additional options exist for guided hiking at Grand Canyon National Park. More...
Download the bulletin below for a list of companies authorized to guide overnight hikes within the park. Please contact the companies directly regarding cost and services provided.
Guided Backpacking Trips Bulletin (170 kb PDF file)
---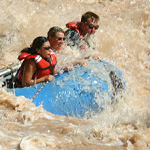 3-21 Day White Water Raft Trips
Commercial white-water raft trips through the canyon last 3-21 days and require reservations well in advance.

More than a dozen companies are authorized to provide trips on the Colorado River through Grand Canyon. Prices vary depending on company, length of trip, and craft used, but are roughly $250-300 per day. More...

View the current list of commercial river companies.
---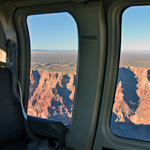 South Rim Air Tours
All scenic air tours are based outside of Grand Canyon National Park. Both fixed-wing and helicopter tours of the Grand Canyon region are offered daily.

Some air operators also fly to the Grand Canyon Airport from Phoenix/Scottsdale, Arizona or Las Vegas, Nevada. For a list of air tour operators with links to their websites, visit Grand Canyon Airport's listing here..

---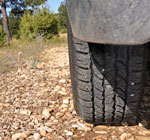 Jeep and Van Tours
Join an off-road trip or travel by van to viewpoints along the canyon rim. Tour the park with local guides and learn about human history, wildlife, geology and folklore.

Off-road and van tours are based outside of the park. Search the business directory of the Grand Canyon Chamber of Commerce for information about companies that offer guided tours.