Join us August 16 & 17, 2019 for Kanab's Western Legends Heritage & Music Festival, as we remember and celebrate our western heritage of old tough and true cowboys, movie history and the stars that come with, as well as music old and new that keep our western hearts alive.
Previously, Western Legends Roundup has been an event that generations have attended and loved for the last 20 years. Throughout Western Legends Roundup's 20 years there has been a celebration and remembrance of the movies and stars that were a pivotal part of creating "Little Hollywood" in our scenic Southern Utah community.
As the years go on, many film producers sought out Kanab and surrounding Kane County as the perfect backdrop for their productions, using local cowboys and cowgirls for their heritage and talents. Even as you drive through our scenic highways and byways, or even an occasional back road, you can still see the remnants of days gone by.
In case any of ya all haven't heard, we have a kick-butt event in Kanab, this is the 21st year of Western Legends event, however THIS year we have tweaked the event to include a Rodeo (bulls, broncs, barrels, roping, the whole bit) AND a country music battle called "Country Battle USA."


We have 6 country bands coming from far and wide (Tennessee to California) to participate. Winner gets $15,000! Check out this link with bios and music samples from each band. It's only $10 per person to watch, so even if you already have plans for those dates…CHANGE THEM! Come to Kanab for the rodeo and some kick-butt country music….and SO much more!
Meet our Bands!
– Thomas Gabriel –
Let's cut right to the chase: singer-songwriter Thomas Gabriel is the eldest grandson of the legendary Johnny Cash. And yes, he sounds a lot like him when he sings. While you could say Thomas had a front row seat to one of the greatest and most influential musicians ever, if you dig a little deeper, you'll see there's a lot more about Thomas Gabriel than a famous grandfather.
Growing up in the fishbowl of fame, Thomas wasn't really sure what to make of everyone who called his grandfather by his first name. "When I was little, I just thought my grandfather had a whole lot of friends, but I didn't understand that he was famous. In about the fourth or fifth grade it dawned on me that while everyone knew who he was, he didn't know any of them back."
Living near Hendersonville, TN close to Nashville, Thomas spent a lot of time with his grandfather. "My Dad wasn't around a lot when I was growing up so Johnny was both a grandpa and a father figure to me. He was who I went to when I needed help or when something was wrong."
It wasn't long before a love of music and creating it became a passion for Thomas. He wrote his first song in the second grade and started to pay a lot of attention to how people were making music. "Growing up, Grandpa would show me chords, listen to music I'd written and ask me about the songs I wrote….he was always real supportive."
While Johnny praised his grandson's music ambitions, he knew how difficult the music business could be. "He suggested I become a police officer, which I found laughable since I was doing a lot of things cops arrest you for."
Taking his grandfather's advice, Thomas became an officer. While he liked the idea of being on the force, he was unable to stop experimenting with drugs…something that was a result of both genetics and a battle with depression and anxiety that Thomas had tried to hide his whole life. After 8 years on the police force, Thomas' choices caught up with him..
It took Thomas some time to get himself on the right track, but that's where he finds himself today. His songwriting, always personal, deals with loss, separation, isolation and more. Even in the very dark times of his prison stint, Thomas kept his sanity by doing what he'd been doing since he was 8 – writing songs. "When things are tough, I can pump out songs like no tomorrow. Maybe I am not as self aware when I am happy, but I am always working on my songwriting."
Songs from Thomas' first full-length release, LONG WAY HOME, are swampy, bluesy, redemptive and vulnerable, covering his drug adiction on "Slipping Away", his prison time "1-9-7-4" and "Cell" and how a broken soul can be renewed by love with "Come To Me.'
Plans for 2019? Hitting the road, which is something Thomas loves most. "I love performing live. If I sing one of my songs, I put everything that went into creating it into the performance. If I am singing one of Johnny's songs, then I channel how I felt when I heard him do it."
He knows there are no shoes to fill ("they're too big") and is content to let people find him however they can – seeing him live, hearing him on the radio or knowing he's the grandson of Johnny Cash (or nephew of Roseanne Cash). As long as they listen, Thomas is fine. "For me, the best compliment I can get is when someone tells me that my music has helped them through a hard time or touched their heart in some way. When I look in the audience and someone is singing my lyric back to me, that's it. It's the biggest thing by far."
---
– Chris Petersen –
Chris Petersen's authentic cowboy blend of country music has given a voice to fans who have felt left behind in the age of pop country. With a sound reminiscent to country songs of the 90's, Chris has drawn influence from artists like Chris Ledoux, George Strait, and Merle Haggard. With hard hitting vocals that cut above the driving beat of the band, Chris Petersen's performances stand out to create a fun, foot stomping experience. For his Summer 2019 album, "Cowboy Coming Home" Chris teamed up with Nashville producer, Trent Willmon. Trent is a seasoned singer/songwriter who has written songs for countless artists including Blake Shelton, Brad Paisley, Eric Church, Montgomery Gentry, Little Big Town, Cody Johnson, and many more. As a producer Trent has had exceptional success. Trent produced a 2019 Billboard #1 Album, Cody Johnson's, "Aint Nothin to it. Trent Willmon said the following about working with Chris, "I feel like Chris Petersen has one of those timeless voices. It's a rare honor to get to work with a real cowboy with such a tireless work ethic and great attitude, and an authentic sense of who he and his audience is. I feel like this is a classic album with timeless songs that people will enjoy for decades." In the first week of July 2019 Chris' album, "Cowboy Coming Home" hit the Billboard music charts in the top ten albums of all genres on the Billboard Mountain Region Heatseekers Chart. This is something not easily attained by an independent artist and Chris credits his ultra supportive cowboy fan base as well as manager, McKensie Black, and Producer, Trent Willmon. Chris stated, "We have an incredible team with a common vision to bring authentic and original country music to life. We built these songs from a lifetime of living them and can't wait to share it all with the people of Kane County." Chris was born and raised in a small town in Northern Utah where he developed a love of country music and the cowboy lifestyle. Chris has built a following of over 100k on his cowboy lifestyle Instagram page @diehardcowboy_. On this page Chris promotes the cowboy lifestyle through authentic cowboy photography and his country music.
---
– Aaron Pax Taylor –
Nashville Recording Artist and Songwriter Aaron Pax Taylor is a native Southern
Californian. Aaron's brand of high energy mainstream country rock is the product of years of passion, enthusiasm, and hard work. Aaron has had the good fortune to play with and learn from some of the industry's most talented and experienced musicians and songwriters. While recent success has been sweet, and future success is the stuff of dreams that seem ever closer, Aaron's passion and commitment to his music have never wavered. Whether he is playing to a crowd of thousands at a sold out venue or sitting on a barstool singing songs to a handful of patrons, the goal is always the same: "Be true to the music and true to yourself. And enjoy what you do each and every night."
---
– Thrillbilly Deluxe –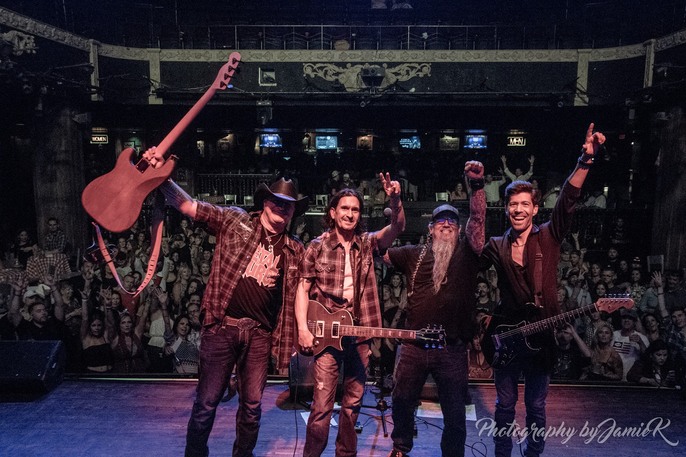 Formed in 2011 THRILLBILLY DELUXE have been setting dance floors on fire with their hand picked covers of mainstream country artists as well as their own original songs. Thrillbilly Deluxe is a four- piece county rock ensemble that's been entertaining their fans with their high energy, boot stompin, rousing performances that's going to keep you wanting more. A few highlighted performances include NFR, Opening for Brett Young and Joe Nichols for Country in the Park, Country in the Cove with LoCash, Kenny Chesney, Darius Rucker and Zac Brown Band after Parties and Las Vegas Motor Speed Way Bullring Awards.
---
– 20 Hands High –
Twenty Hands High is a Denver based country & Southern rock band.  Performing modern & classic country, as well as your favorite Southern rock and Texas/Oklahoma red dirt tunes, they play a dynamic mix of songs sure to get you dancin' in nothin' flat! CW, a small town guy who grew up along the Ohio River, has been a fan of music for as long as he can remember, but country music has always fed his soul.
While he has sang his entire life in various capacities (school, church, in the shower), he is sharing his talent with everyone. This dynamic cast of musicians enjoys keeping the dance floor full, and everyone singing along to their favorites, both classic and modern.
Twenty Hands High has a knack for engaging the audience, and inviting them to be part of the show.  Their smiling faces and stage energy prove they're doing what they love!  Grab your friends and your boots… it's time to cut loose!
– The Damn Liars –
Chuck Bradley and The Damn Liars are purveyors of true american rock and roll.  Hailing from northern California. The Damn Liars put on an explosive live performance heavily steeped in American vintage rock and roll, country and blues.  The Damn Liars released their debut EP, American Ghost Town in April of 2018. Produced by Grammy award winner, Michael Rosen, American Ghost Town is rich with emotion and soulful bluesy vocals.  From liquor soaked honky-tonk, to blues and rock and roll, Chuck Bradley and The Damn Liars give a fresh and simple take on the complex issues of love, life, hurt and death.
2018 has been a big year for The Damn Liars! Some notable highlights include:
Release of the Debut EP, American Ghost Town in April 2018
Sharing the stage in direct support for: The Supersuckers, The Alameda All Stars, Billy Don Burns, Hellbound Glory, Jesse Daniel and more…
Featured interview and article in Sacramento's famous SubMerge Magazine
Featured live performance in studio at PCTV Mountain Views with Terry Burden
---
Click the Logo below to sign up today! (Sign ups are now closed)
Western Legends Heritage and Music Festival Country Battle USA Rules and Regulations:
Eligibility:
• Music must be Western, Country or Country Pop.
• Demo music must be submitted to Kane County Events and Volunteer Center in a MP3 format or a link to your music.
• Bands must submit a completed application by July 1st, 2019 at 5pm to be considered. This allows time for all chosen bands to be included in our advertisement and booklet.  Once chosen to perform and compete, bands will be required to play 1 set each day for the duration of the 2 day competition. After both sets are perfomed each band will be paid $1,000 for their 2-day performance.
• Country Battle USA is a live music, band/group competition. No solo singers or DJ/mixers will be considered. Band/group size must be at least two (3), but no more than eight (8) musical performers.
• Bands selected to compete must perform for 40 minutes each day of the competition. No tracking or lip-syncing will be allowed.
• You may have up to 50% of your song be "Cover songs."
• You will have 10 min to get on stage and set up, and 10 min to get off stage.
• If you are chosen as one of the 6 Bands, you will need to:
-Contact our sound tech with your stage plots and needs so that the transition on and off the stage goes smoothly.  
-Provide a high resolution image of your band by July 10th, 2019.
Western Legends Heritage and Music Festival is a family-friendly event and any band/group submitting an application for the Country Battle USA agrees to provide appropriate entertainment. Event organizers reserve the right to disqualify a band/group for reasons including, offensive lyrics, inappropriate dress or behavior, gang or offensive tattoos, depiction of violence or nudity or explicit activity. Violations will result in immediate disqualification from the competition.
Judging:
Judging will be based on the following criteria on a scale of 1-10.
1) Overall Performance
2) Sound Quality
3) Playlist variety
4) Personality/crowd interaction
5) Appearance
6) Attitude and professionalism
There will be a panel of Judges that will give the band feedback immediately after your performance. In order to ensure the fairest judging possible and removing any chance of judging bias there will be a panel of 5 judges and the highest and lowest score from each band will be thrown out and the 3 remaining judges will determine the score. This score will determine 80% of your overall score. The other 20% will be audience choice.
*** Prizes: $15,000 Winner takes all! ***
Performance:
• If any member of a band/group is late for their performance time, the band may choose to perform without the late member(s) or forfeit their spot in the competition. If the whole band/group is late for their arrival time, they will be automatically disqualified.
• Bands must provide all instrumentation and instrument amplification (guitar amp, base amp, etc) A sound system (speakers/monitors), microphones and stands will be provided.
• Bands will be performing either on Friday August 16th or Saturday August 17th in Kanab Utah. To avoid "Band Bias" all 6 band slot will be drawn through an online generator. The drawing and results will be shown live on our Facebook page. You will be given the info in advance where to go and watch the drawing if you are one of the 6 bands chosen to compete. If you are not willing to play on Friday, do not apply.
• Bands will play at the top of each hour. Excluding Saturday from noon to 1 pm for the parade. The winners will be announced Saturday 7:30 pm. The winning band will perform at street dance Saturday from 8 to11 and must play 2 hours during that time for payment.
Attendance and Voting:
There will be a $10 cover fee per person each day to get into the Country Battle USA. They will receive a wrist band that can be cut off at the end of the day and used as a ballet to vote for their favorite band. This allows a person coming two days to have 2 votes. Remember Audience is 20% of the score so bring your followers!
Disclaimer:
By participating in Country Battle USA, all members of the band/group grant Kanab Western Legends Heritage and Music Festival permission to take, use, or publish photographs of them either with or without their names, in such manner as, in its sole discretion, Western Legends Heritage and Music Festival may deem proper, and further waive ownership interest in any photos or copies thereof.